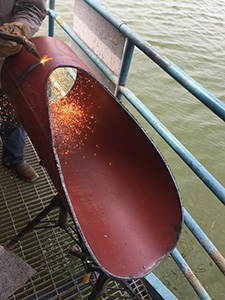 Custom Fitting Fabrication
Custom Fitting Fabrication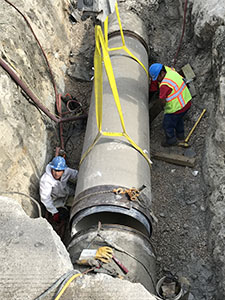 Concrete and Steel Pipe Material Services
Concrete Pressure Pipe & Steel Pipe Material Services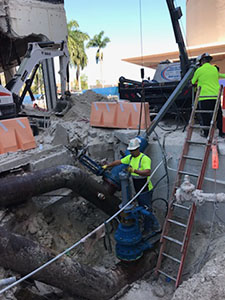 16″ Line Stop – Chilled Water System
16″ Line Stop on a Hospital's Chilled Water System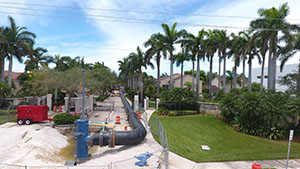 Double 60″ Line Stop Emergency
Double 60″ Line Stop Emergency on PCCP in Hollywood, Florida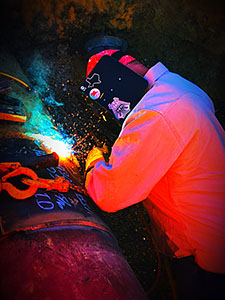 Rangeline Pipline Services Division
Rangeline Pipeline Services Division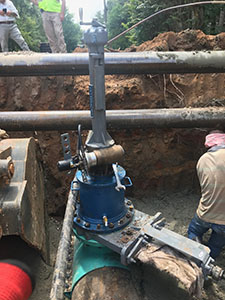 Double 24″ Line Stops
Double 24″ Line Stops in Mobile Alabama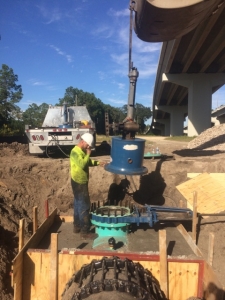 Double 42″ Line Stop
Here is a Double 42″ Line Stop on ductile iron pipe in Panama City Beach, FL.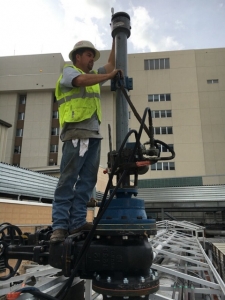 Two 12″ x 8″ Hot Taps, Miami, FL
8″ Hot Taps being performed on the roof of Mount Sinai Hospital in Miami, FL.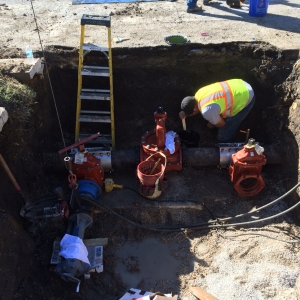 8″ Valve Insertions & 8″ Wet Tap
Here is a 8″ TEAM Valve Insert along with a 8″ Wet Tap on a ductile iron water main in Dallas, TX.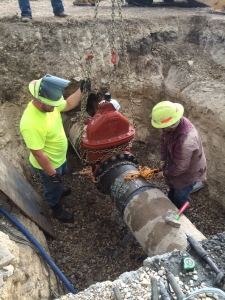 Double 16″ Line Stop in Waco, TX
Here is a 16″ PCCP water main running to an above ground storage tank.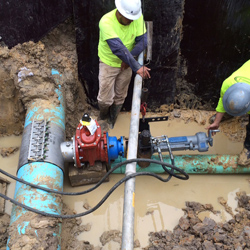 16″ x 8″ Wet Tap
Texas Rangeline technician's perform a 16″ x 8″ Wet Tap on a PVC water line.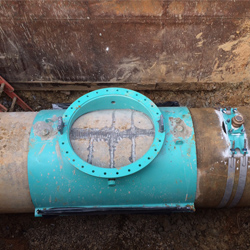 Single 36″ Line Stop on PCCP
Here is a Single 36″ Line Stop on PCCP in the City of Jackson, Mississippi.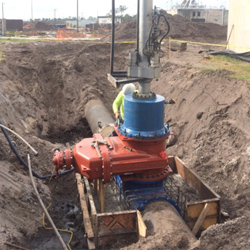 36″ x 30″ Wet Taps
Here are two 36″ x 30″ Wet Tap being performed in Orlando, FL.
8″ Valve Insertion
This cast iron water line had "NO" in-line valve.  Rangeline was called to install a TEAM 8″ Valve Insertion while the 8″ water line stayed in service.
Double 24″ Line Stop on PCCP
Here is a project completed in San Antonio Texas.
Tampa Line Stopping
A customer in Tampa Florida needed to upgrade a Lift Station to handle larger capacity flows…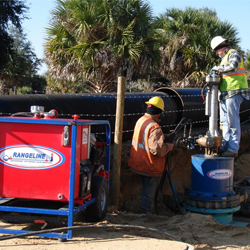 Orlando Line Stopping
Orange County Utilities in Orlando Florida had issues with their 30 inch water main…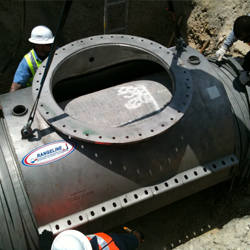 Miami Line Stopping
Miami Dade Water and Sewer Department (MDWASD) needed line stopping and hot tapping on a 48-inch concrete force main…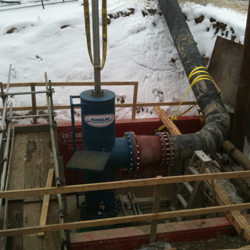 Line Stopping in Sarnia Canada
Rangeline was contacted  by customers in Canada for recommendations on how to divert flow to install a new 36 inch Valve and Flow Meter while keeping two plants in operation…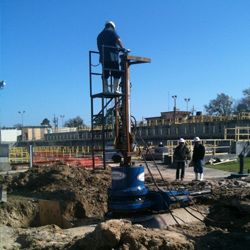 Louisiana Line Stopping
The City of Baton Rouge, Louisiana wanted to make upgrades to one of their large Waste Water Treatment Plants. with a failing valve system…
Florida Water Main Break
Orlando Utility Commission "OUC" has a water main leaking on International Drive in Orlando Florida during the busiest time of year and they can't shut it down…
Hollywood Force Main Break Emergency
When a 48 inch ductile Iron force main fails and raw sewage can't be stopped in the City of Hollywood Florida, Rangeline is called…
New Jersey Line Stopping
Passaic Valley Water Authority in New Jersey wanted to add valves at a number of busy intersections to their existing water system which was over 100 years old…
Houston Sewer Main Emergency
The City of Houston had an emergency situation with a leaking 24 Inch sewer force main that needed immediate emergency response…
We are at your service 24 hours a day 7 days a week and 365 days a year. We stock fittings for most applications and have equipment, material and service technician's standing by. We can be ready to mobilize within an hour. Please call our toll free "Emergency" Hot line number at 1-800-346-5971 for immediate assistance.