Double 24″ Line Stops in Mobile, AL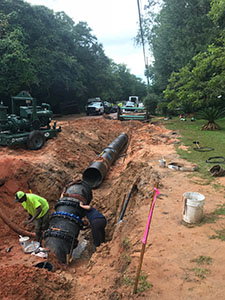 When a 60-year-old cast iron water begins to spring leaks the City of Mobile Alabama only calls one company and that's Rangeline!
Recently in Mobile, Alabama a very old water main needed to be replaced.  When you have a piping system which is very old and fragile Rangeline technicians have that delicate touch to work on these types of critical pipe systems.  What was needed was a Double Line Stop to isolate a section of the cast iron pipe and replace it with a new section of ductile iron pipe.
Rangeline deploys the latest state-of-the-art Line Stopping equipment in the Country.  Their new folding head technology limits size on size wet taps to insert Line Stoppers into the piping systems.  Rangeline offers reduced branch technology equipment which is less intrusive to older piping systems.
In this situation Rangeline used 24" x 16" folding head technology going through a smaller outlet is more economical, less weight and less intrusive to the existing older systems.
Rangeline complete this job while the system stayed up and running with "NO" interruption to any customers.  Call Rangeline for your next Wet Tap, Line Stop or Valve Insertion today at 800-346-597i or visit us at www.Rangeline.com