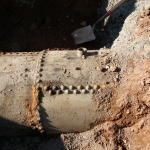 CLIFTON NJ, November 2011 – 30 Inch Riveted Steel Line Stop – When the Passaic Valley Water Authority in New Jersey wanted to add valves at a number of busy intersections to their existing water system which was over 100 years old, Rangeline Tapping Services, Inc. stepped up to meet the challenge.
This type of pipe which was fabricated in the late 1800's or early 1900's was one of the oldest in the Country. The City had records of this 30" Riveted Steel Pipe that indicated it was installed in 1908. This pipe had a lap joint running down the top of the pipe with ½ Inch raised rivets and was sealed with a bituminous tar.
This made the standard "off the top" linestop configuration impossible. Rangeline engineering in conjunction with JCM Industries designed and fabricated a reinforced steel Line Stop nozzle that could be field modified and mounted at an angle to the pipe.
This allowed a clean cut by the tapping machine while maintaining structural integrity of the pipe during the New Jersey Line Stopping procedure. The stopper was installed at a near 45 degree angle and seated inside the pipe.
A 100% shut down was achieved which allowed the contractor to cut and weld in a new valve. The stopper was then removed and the line was placed back in service. It was noted that no one had ever placed a Line Stop in this pipe before and the New Jersey Water Authority and Contractor were very happy with the results.
It's job's like this that sets Rangeline apart from its competition. Innovative solutions to complex problems with a focus on customer service and productivity helps Rangeline set the standards in the industry.
Why not Call Rangeline the next time you have a problem, old OR new!