Double 60″ Line Stop Emergency on PCCP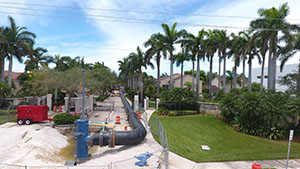 When the City of Hollywood, Florida has a 60" force main that was damaged during a directional drilling they call Rangeline!
Recently in Hollywood, Florida Rangeline was called for their Emergency Services.  Rangeline's quick response team jumped into action.  The Rangeline Team was on-site within hours to assess the damage and put a plan into action with the Emergency Response Utility Contractor.  This 60" Pre-Stress Concrete Cylinder pipe (PCCP) force main was one of the city's main collection pipes and shutting it down was not an option.
Rangeline & JCM Industries team of Emergency Responder's began the fabrication of two 60" Line Stop fittings for this Concrete Pressure pipe.  JCM worked around the clock and was ready to ship these fittings within a day in a half which was a new record for Emergency Response time.  After an all-night hot shot delivery to the job-site it was time for the Rangeline team to show what they are trained to do.
Once the Rangeline started there was "NO" stopping!  Rangeline's team of technician's work around the clock and had both Line Stoppers ready to be set within a day in half. While this was taking place the 36" HDPE temporary by-pass piping was constructed and put into place and bolted up to the Line Stoppers.  By the time the call came in the damaged 60" Concrete Pressure pipe had been isolated by the Line Stops and by-passed with 36" HDPE through the Line Stoppers was less than a week.  This was an industry record response for a 60" Concrete Pressure pipe.
When it comes to Emergency Response Rangeline is the team to call 24/7 365 days a year. We are ready and waiting to help for your Emergency and routine scheduled Wet Taps, Line Stops or Valve Insertions.  Call Rangeline today at 800-346-5971 or you can visit us at www.Rangeline.com.