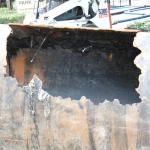 HOLLYWOOD FL, November 2011 – When a 48 inch ductile Iron force main fails and raw sewage can't be stopped in the City of Hollywood Florida, Rangeline is called.
The City of Hollywood has always used Rangeline Tapping Services and Force Main Break Emergency services but this will be the ultimate test of Rangeline's emergency response capabilities. When you have a line fail which contains raw sewage, saving every hour can avert some serious fines from the EPA.
Rangeline gets the call for an Emergency Single 48 Inch Line Stop with 36 Inch By-Pass through the Line Stopper. The emergency response team jumps into action to respond to a customer in a desperate situation. This is the worst case scenario for any municipality and to add to the chaos, it's the week before the holiday.
Rangeline has accumulated the largest inventory of Line Stop fittings in the Country for these emergency situations. After receiving the call from the City of Hollywood Florida, Rangeline had the large 48 Inch Line Stopper in place and the by-pass in operation, in less than 24 hours.
This action shows Rangeline's capabilities and how it has the resources to deliver in emergency main break situations!
Call Rangeline today to learn more about our Emergency Response Services nationwide.