16″ Line Stop on a Hospital's Chilled Water System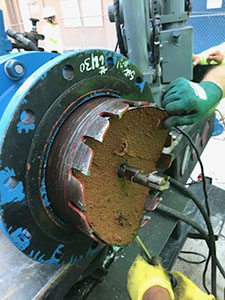 When you think of places that don't shut down hospitals is usually one of the number one place people will think of first.  That's right 24/7 365 days a year your local hospitals are open and saving lives on a daily basis and it's Rangeline's job to keep them doing just that.
For over the last 25 years Rangeline Hot Tapping, Line Stopping & Valve Insertion services is utilized in critical systems that have to stay up and running and hospitals benefit for Rangeline's services every day.
Here is a project at one of Florida's largest hospitals Jackson Memorial in Miami, Florida.  These 16" Line Stops were needed to relocate a 16" steel chilled water main for a new hospital expansion.  All the work was performed while the system stayed up and running with "NO" interruption to the hospital or patient care.
When it comes to critical piping systems Rangeline is the professionals to call 24/7 365 days a year. We are ready and waiting to help for your Emergency and routine scheduled Hot/Wet Tapping, Line Stops or Valve Insertions.  Call Rangeline today at 800-346-5971 or you can visit us at www.Rangeline.com.