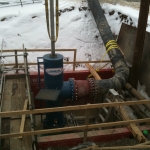 SARNIA CA, February 2010 – When our customers in Canada have piping problem, they call Rangeline Tapping for help! In Sarnia Canada, they had a 36 inch PCCP water main which supplies two large industrial plants.
The problem: This 36 inch line is the most critical in the city due to the fact that the line was feeding the two plants which operated 24/7 and the water supply couldn't be interrupted.
Rangeline was contacted about this situation for recommendations on how to divert flow to install a new 36" Valve and flow meter while keeping the two plants in operation.
Rangeline engineered and designed a plan to utilize a Double 36 inch Line Stop with internal By-Passing through the Line Stoppers to maintain a constant flow of water to the end users. The Rangeline Line Stoppers worked perfectly to isolate a section of the 36 inch PCCP water main. The new valve and flow meter were installed ahead of schedule saving the city and contractor time and money. Most importantly, the two industrial plants had no delays or lost time and continued to operate normally.