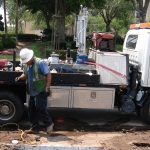 ORLANDO FL, September 2011 – When Orlando Utility Commission "OUC" has a water main leaking on International Drive during the busiest time of year and they can't shut it down, they call Rangeline.
As you know, Orlando Florida is one of the largest and busiest vacation destinations in the world. These vacationers have one spot they love to stay at on International Drive because of its 5 star hotels, restaurants and attractions. When a water main breaks or fails in this location, time is money and response and repair time is essential for all the surrounding businesses.
Rangeline was called to isolate an 8 Inch cast iron water main which had begun leaking at approximately 6 AM. The Rangeline team responded to the call and provided a Double 8 Inch Line Stop to isolate the crucial water main so the repair could be made. These Line Stops worked perfectly and the water main was back in service by lunch time.
This is another example of Rangeline's responsiveness when a customer needs quick action on a Florida Water Main Break. No matter what size project, small or large Rangeline provides excellent service.
Why not Call Rangeline the next time you have a problem, old OR new!