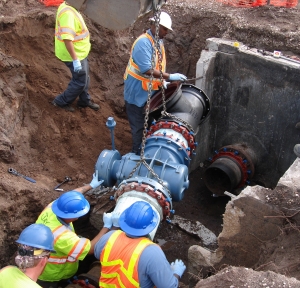 TAMPA FL, February 2010 – When a customer in Tampa Florida needed to upgrade a Lift Station to handle larger capacity flows, they called Rangeline Tapping.
The problem: A Lift Station being upgraded needed to be by-passed while the final connections were being made. Rangeline was contacted for a recommendation on how the station could be isolated for the upgrades while maintaining the flow during this phase. Rangeline came up with a plan to isolate the Lift Station using 16 inch Line Stops on the ductile iron force main. These Line Stops went through a 12 inch tapped hole and sealed on the I.D. of the 16 inch pipe which had been eroded by the trapped gases in the pipe. Even though this had occurred, the Rangeline Line Stoppers made a workable seal and the tie –ins were made.
The new upgrades to the Lift Station were completed right on schedule with no interruption of service for their customers.