Houston Sewer Main Emergency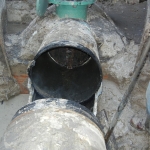 HOUSTON TX, January 2012 – When the City of Houston had an emergency situation with a leaking 24 Inch sewer force main, Rangeline had a Line Stop ready for an immediate emergency response.
Even though the Houston sewer main emergency was complicated because the leak was in an environmentally sensitive area, Rangeline's Line Stop team went into action. We performed a Wet/Hot Tap for a bypass, and then put a Single 24 Inch Line Stop into the 24 Inch Ductile Iron pipe to enable the repairs. The Wet/Hot Tap went smoothly and the Line Stop gave a 100% bubble tight seal for a safe and environmentally friendly solution. The sewer force main was repaired and the emergency was over.
Rangeline carries a full inventory of Line Stop fittings which gives us the ability to provide a rapid response in an emergency. Rangeline's Houston Sewer Main Emergency Service provides Wet Taps, Hot Taps, Line Stops, and Valve Insertion installations on all types of pipes and sizes in water and wastewater systems.
Call Rangeline today.