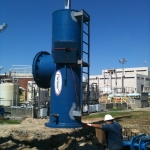 BATON ROUGE LA, April 2011 – Recently the City of Baton Rouge, Louisiana wanted to make upgrades to one of their large Waste Water Treatment Plants. However, with a failing valve system, the upgrades could not be made.
The City of Baton Rouge called Rangeline Tapping for their Engineering and Louisiana Line Stopping expertise. After carefully evaluating the City's piping system, it was determined that a Single 54 Inch Line Stop was the best and most cost effective option to make the essential upgrades to the plant. This 54 Inch main was pre-stressed concrete cylinder pipe (PCCP) also known as SP-12 Embedded Cylinder Pipe "ECP". By utilizing the Linestop, the city would save over $150,000 and the Louisiana plant would be in operation 5 months earlier than the original plan. With that kind of cost and time savings, the city was eager for Rangeline Line Stopping and Tapping Services to perform the work.
Rangeline's technician's used a 54 Inch x 36 Inch Line Stop fitting and utilized a 54 Inch "folding head" Line Stopper. This folding head is able to fit through a 36 Inch tapped hole thus putting less stress on the PCCP by using smaller and lighter equipment and reducing the cost of the material for the City of Baton Rouge. Our Louisiana Line Stopping worked perfectly and the new upgrades were made to the plant on schedule.
Why not Call Rangeline the next time you have a problem, old OR new!