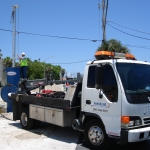 MIAMI FL, July 2010 -Rangeline Services performed Line stopping and hot tapping for the Miami Dade Water and Sewer Department (MDWASD) on a 48-inch concrete force main. Since the Line Stops had to be installed on two different pipes, these custom made stainless steel Line Stop fittings required two different designs. Both were custom made to fit the different kinds of Concrete pipes.
The first Linestop required a fitting that sealed on the outside of the RCCP concrete pipe. The second Line Stop required a fitting that was made for Pre-stressed Concrete Cylinder pipe known as SP-5 or "LCP" Lined Cylinder pipe. This fitting is made to seal on the Steel Cylinder of the pipe. In order to install this fitting, the 1-inch Mortar Coat has to be removed and the pre-stressed wires exposed to provide access to the steel cylinder.
These Line Stops were needed to facilitate the installation of an in-line 48-inch diameter Plug Valve. This valve was needed so that product can be diverted to another wastewater treatment plant in case of any problems in the future.
Installation of these double 48-inch line stops on PCCP/RCCP with sewage flows at 40 PSI. provided quite a challenge when one section of pipe was found to have had over 2 feet of sediment in the pipe. Rangeline's technicians' were still able to provide a 100% shut down.